We're offering an on-demand taxi cab service for Tokyo American Club members if you're capable to place orders by yourself. It means that this service is offered in Japanese only. Yet, just like the black car service, you'll pay all the taxi charges later through your membership account.
This is how it works:
First, you apply for the taxi service authorization to Member Service here.
Then Member Service opens your taxi account at Z Mobility.
Once you get your own taxi account at Z Mobility, you call taxi whenever you want to by phone.
When Club ID Chargeable taxi arrives, you get on it and go wherever you want.
When you get off the cab, you will sign on "Club ID Taxi Ticket" like the one below, and
you'll pay all the meter charges later.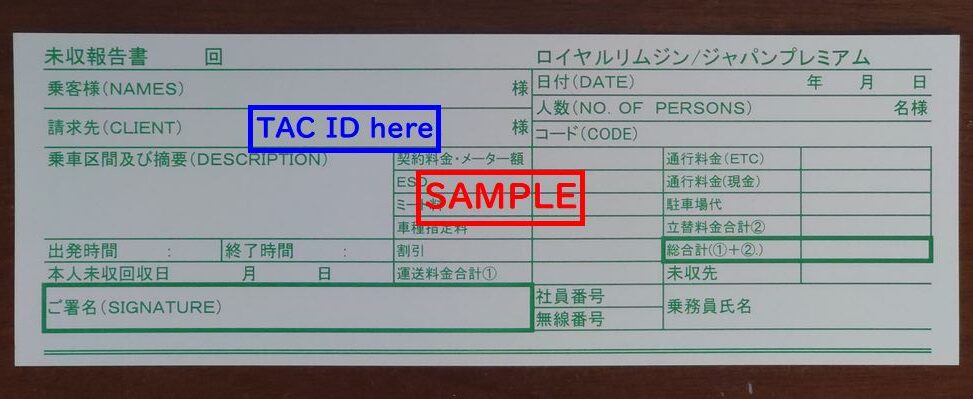 Fare
| | |
| --- | --- |
| First-ride fare: up to 1.052km | 420 Yen |
| Additional fare: Every 233m after 1.052km | 80 Yen |
| Pick-up charge (迎車料金) | 420 Yen |
| Hourly rate | 4,700 Yen |
| Midnight and early morning surcharge (22 – 4:59) | 20% |
| Long-distance discount (Over 9,000 Yen) | -10% |
| Disability discount (Need to show Disability ID) | -10% |
Toll and Parking will be charged if occurs
How to find the Taxi
All available taxi cabs carry a dashboard sign, "Club ID Chargeable." Some of them will be taxiing in Tokyo American Club front door in Azabudai. Respectively, they are carrying the following taxi lamps:
What's the phone number to call?
You will have the number once you have your own taxi account.